Camping in the High Sierras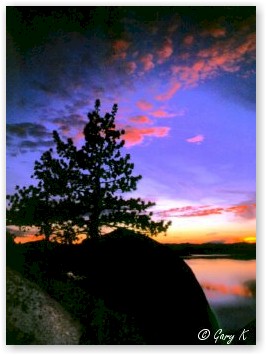 Whatever area one calls home, there are unique opportunities for exploration, learning and growth. This area allows us, even demands of us, the use of all our physical and mental prowess. This area is prime for some of the finest camping and related activities in the United States. With its almost unlimited trails, campsites, climbing domains, national parks, state parks, wilderness areas, this Sierra region is a veritable cornucopia of all that nature has to offer.
There are many CAMPSITES in all of the areas of this mountain region. They range from very comfortable RV and drive-in camps with all of the amenities to hike-in, wilderness camps where you carry in your own amenities; river-side camps; and lake-side, boating camps. Many of these campsites accommodate horses. The variety suits just about any taste.
Fishing
Sport fishermen flock to this area in the High Sierra Nevada because of the variety of "fishing holes" and the prize fish available in them. The trolling in Lake Tahoe or Donner Lake for Mackinaw, Lake Trout and Kokanee Salmon; the fly fishing in the Truckee River for Brown, Rainbow and Brook trout is unsurpassed in the West. Golden Trout, the shyest and most sensitive of the trout family, may be caught in the "high" country lakes and streams.
You may even surpass the current state records – a 37-pound Mackinaw and a 4-pound, 13 ounce Kokanee Salmon. A 12-pound Rainbow and 17-pound Brown are records for Lake Tahoe, so far.
From October 1st to June 30th, the streams, which drain, into Lake Tahoe and their tributaries up to the first lake are closed to fishing because many of the sport fish spawn in Lake Tahoe's tributaries in the spring and fall. However, Lake Tahoe is open all year, except within 300 feet of the mouth of any stream. The high Sierra lakes are also open all year. For complete fishing and licensing information, check in the California and Nevada Fish and Game Fishing Regulations Brochure, which can be found at any sport store here.
Golfing
There are very few regions in the western United States where so many various types of courses are located in such a small area. The golfing opportunities on the North Shore abound, from short nine-hole layouts to long championship courses, wide-open links-style settings to mountainous tree-lined fairways. There are eight courses in the area, one for every level of player and the type of golf they want to play.
The oldest course in the area was designed and built in 1917 by a female architect, May Dunn. Located in Tahoe City, originally it was only six holes; although in the 60's three more holes were added to the layout.
There are three Robert Trent Jones, Sr. and Jr. designs, the newest of which is The Resort at Squaw Creek, laid out in 1993, and considered to be the most demanding course in the area.
Capitalizing on the mystery of the Lahontan Cutthroat Trout, a new destination resort is being designed and built now on the outskirts of Truckee in the Martis Valley. This will be a stunning golf club community with a dramatic 18-hole championship course designed by Tom Weiskopf. This course is due to be completed in the Fall of 1998.
Your opportunity for a truly memorable golfing experience is bound to be fulfilled in this high mountain, four seasons, resort area.
Tahoe-Truckee Golf Courses in Brief
Tahoe City
LOCATION: Highway 89
(530) 583-1516
HOLES: 9
LENGTH: 2,691
PAR: 33
CARTS: Yes
DRIV. RANGE: Yes
FOOD: Restaurant and Bar
PRO: Yes
Tahoe Donner
LOCATION: Northwoods Blvd.
(530) 587-9440
HOLES: 18
LENGTH: 6,889
PAR: 72
CARTS: Yes
DRIV. RANGE: Yes
FOOD: Restaurant and Bar
PRO: Yes
Old Brockway
LOCATION: 7999 No. Lake Blvd.
(530) 546-9909
HOLES: 9
LENGTH: 3,314
PAR: 36
CARTS: Yes
DRIV. RANGE: Yes
FOOD: Restaurant and Bar
Northstar-at-Tahoe
LOCATION: Highway 267
(530) 562-1010
HOLES: 18
LENGTH: 6,890
PAR: 72
CARTS: Yes
DRIV. RANGE: Yes
FOOD: Restaurant and Bar
Ponderosa
LOCATION: Highway 267
(530) 587-3501
HOLES: 9
LENGTH: 3,018
PAR: 36
CARTS: Yes
DRIV. RANGE: No
FOOD: Snack Bar and Bar
Resort at Squaw Creek
LOCATION: Olympic Valley
(530) 581-6637
HOLES: 18
LENGTH: 7,000
PAR: 71
CARTS: Yes
DRIV. RANGE: Yes
FOOD: Four Restaurants and Bar
Incline Village Championship
LOCATION: 955 Fairway Blvd.
(702) 832-1144
HOLES: 18
LENGTH: 7,138
PAR: 721
CARTS: Mandatory
DRIV. RANGE: Yes
FOOD: Snack Bar and Bar
Incline Village Mountain
LOCATION: 690 Wilson Way
(702) 832-1234
HOLES: 18
LENGTH: 3,505
PAR: 58
CARTS: Mandatory
DRIV. RANGE: No
FOOD: Snack Bar and Bar
Hiking and Biking
Of course, the HIKING in this glorious region is unsurpassed. The trails are as often used for MOUNTAIN BIKING as well. From the novice to the highly experienced, adventure-seeking athlete, this region offers an abundance of the most diverse hiking and biking terrain in the country. If you do not want to explore new territory by yourself, there are several "ADVENTURE COMPANIES" in the area geared to your particular special interest who organize day trips, week trips, whatever your wish may be.
The stimulus of WILDLIFE watching naturally goes along with trail hiking and biking. Because this is a four-season ecosystem, the variety of animal species and bird species is amazing. Hours can just vanish when you pull out your binoculars, sit and observe the antics of whatever denizen of nature that catches your fancy.
Rock Climbing
The geological base of granite in this area is paramount to CLIMBING, be it bouldering or free climbing. The huge granite walls lure climbers from across the state and across the country.
There are two indoor climbing gyms in the North Lake area where one can learn to climb safely before tackling the great gray wall outside. This is a controlled environment with predetermined levels of difficulty. There is also a mountaineering school in the Truckee area.
Of course, as with every aspect of outdoor life, the natural beauty of this region can be seen from a totally new perspective depending on the discipline you are using.